In a paper published by the Bank for International Settlements (BIS), titled: "Distrust or speculation? The socioeconomic drivers of US cryptocurrency investments," researchers studied crypto investor trends concluding that no special government policy is needed.
The paper published on July 1st was authored by Raphael Auer and David Tercero-Lucas. Auer is titled BIS's principal economist for innovation and the digital economy. He has been heavily involved in a vast amount of the bank's research on blockchain technology and central bank digital currencies or CBDCs. In addition to writing and doing research at BIS on digital assets and the future of government fiat. Auer has also published work at Coindesk and MIT's TechnologyReview bashing Bitcoin's design stating that its Halvening event and hash rate could be used against the number one digital asset by market cap to attack it.
Auer writes articles related to cryptocurrencies, stablecoins, and central bank digital currencies (CBDCs.)
Auer and Tercero-Lucas a Ph.D. candidate in Applied Economics at the Universitat Autònoma de Barcelona, lead the working paper with the claim that "we disprove the hypothesis that cryptocurrency investors are motivated by distrust in fiat currencies or regulated finance."
They stated that they had found that most who have concerns around fiat money and government fiscal policy or mainstream finance may seek information around crypto, but sequentially they decide not to invest. Because it's not like the U.S. deficit reached $3 trillion dollars or anything, which let me give you a quick course in economics. When the money printer goes "BRRRRRRRRRRRRRR," the purchasing power of each dollar is devalued. In fact, we know that's not at all the case due to the meme coin Dogecoin surging in value, thanks in part originally to vigilante Reddit stock investors from Wall St Bets.
Just recently, CNBC reported that the U.S. deficit in 2020 totaled $3.13 trillion while currently under Biden we are already at a $2.06 trillion spending rate for the first eight months of the fiscal year. If that's not enough, the total government debt is now $28.3 trillion, of which the public holds $22.2 trillion.
The researchers, however, concluded rather than crypto being an investment in an alternative financial system or a way to opt-out of mainstream finance i.e. "sticking it to the man", most crypto investors are only putting money into crypto to speculate. According to the researchers' opinions digital assets are "not sought as an alternative to fiat currencies or regulated finance, but instead are a niche digital speculation project," They added that because of this "cryptocurrency doesn't need any special regulations."
"From a policy perspective, the overall takeaway of our analysis is that as the objectives of investors are the same as those for other asset classes, so should be the regulation. Cryptocurrencies are not sought as an alternative to fiat currencies or regulated finance, but instead are a niche digital speculation object."
They also found that "cryptocurrency investors tend to be educated and high-income, are likely to have experience of using digital finance." Adding a section on actual investments into digital currencies finding that those who own XRP and Ether are likely to be the most educated, while those who own Litecoin to be the least knowledgeable in the space. Shockingly the most popular cryptocurrency, Bitcoin ranked in the middle. The researchers additionally suggested that owners of XRP, ETH, and XLM, are likely to be the wealthiest crypto hodlers.
#Cryptocurrency investors tend to be educated and high-income, are likely to have experience of using digital finance and do not seem motivated by distrust in fiat currencies or regulated finance #Banking #Bitcoin https://t.co/OqQRSsxZO7 pic.twitter.com/Bxind4ekFz

— Bank for International Settlements (@BIS_org) July 1, 2021
Roughly 2 weeks ago, BIS published a press release titled: "Central bank digital currencies herald a new chapter for the monetary system," in this report the central bank of central banks, blessed the development of at least 56 countries developing a Central Bank Digital Currency (CBDC), as Bitboy Crypto .reported
As previously mentioned Auer is heavily involved in BIS research, one of his former papers entitled: "The technology of retail central bank digital currency," discusses how to protect and safeguard user privacy utilizing a CBDC, while at the same time allowing effective law enforcement.
Auer writes:
"Central bank digital currencies (CBDCs) promise to provide cash-like safety and convenience for peer-to-peer payments. To do so, they must be resilient and accessible. They should also safeguard the user's privacy, while allowing for effective law enforcement. Different technical designs satisfy these attributes to varying degrees, depending on whether they feature intermediaries, a conventional or distributed infrastructure, account- or token-based access, and retail interlinkages across borders. We set out the underlying trade-offs and the related hierarchy of design choices."
Perhaps as a Freudian slip the paper users a pyramid graph to discuss the design of CBDCs, which is usually associated with the words "Ponzi scheme." Maybe Auer and the other author, of the March 1st paper, Rainer Boehme are hinting that they know that the current financial system is a pyramid? That's a joke, but the graph hilariously entitled "The CBDC pyramid," is below highlighting the four main design choices and consumer needs. Next time rethink using the globally recognized symbol for a scam to describe digital fiat cash. Even though it's undoubtedly the truth as digital fiat is far from being decentralized and sharing the cryptocurrency ethos of taking power away from the banks and central banks, while simultaneously becoming your own bank.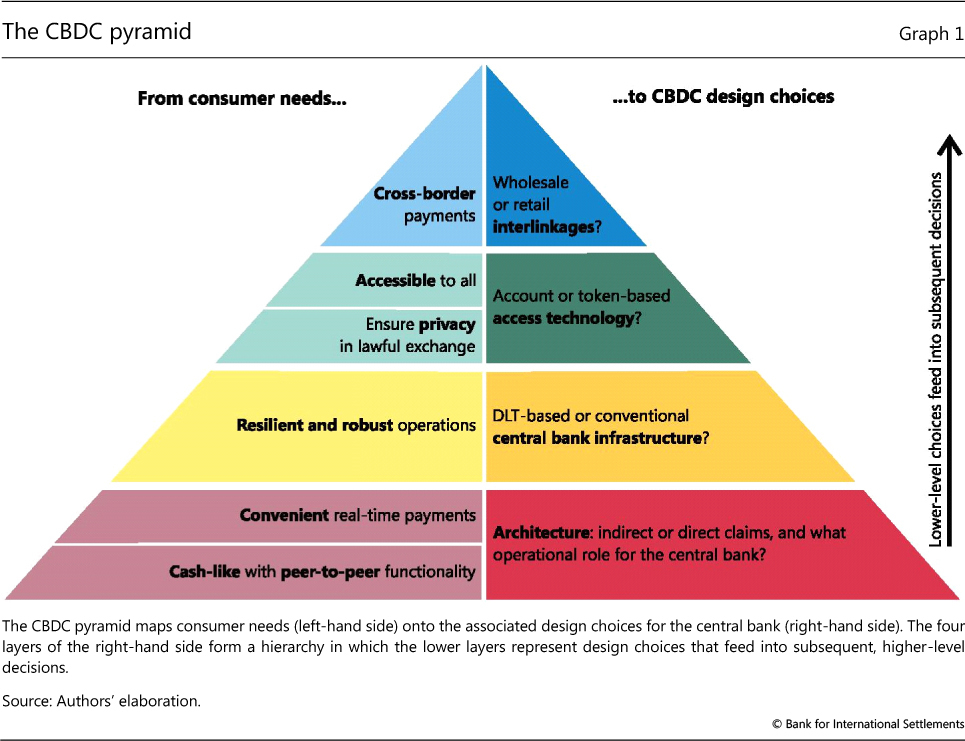 With the blunder by BIS researchers calling their graph "The CBDC pyramid," aside. Auer has a lot of great research available on his Twitter discussing the different uses for a CBDC and how it doesn't have to be as privacy-invasive as most think. Although, that would require trusting both central banks and the private sector of technology companies as opposed to the decentralized trustless nature of most crypto digital assets relying on blockchain and code that is open source.
⬇️new paper and personal synthesis on retail #CBDC design: how to make for a good means of #payment, safeguard #privacy, and preserve the private sector's role in the monetary system: https://t.co/h3VnT0gHyn [1/7]. pic.twitter.com/YwnK4d3B49

— Raphael Auer (@RaphAuer) June 8, 2021
What's of further interest to users regarding BIS, is a test pilot experiment they announced was successful last year called Project Helvetia which explored the technological and legal feasibility of transferring digital assets through:
issuing a wholesale CBDC onto a distributed digital asset platform; and
linking the digital asset platform to the existing wholesale payment system.
Specifically, the Bank for International Settlements' arm known as the Innovation Hub short for (BISIH), the Swiss National Bank (SNB), and the financial infrastructure operator SIX Digital Exchange's (SDX) platform was involved in a joint proof-of-concept trial that integrates tokenized digital assets and central bank money.
just out: wholesale CBDC study shows the feasibility of integrating tokenised assets and central bank money, by @BIS_org, @SNB_BNS_en and @SDX_global:https://t.co/QDjHfHoIdt pic.twitter.com/xEsEGqFhnj

— Raphael Auer (@RaphAuer) December 3, 2020
Last month, Auer published a paper titled: "Central bank digital currency: the quest for minimally invasive technology" which examines a hybrid model of digital fiat that uses both public and private sectors to develop it. The paper also vastly explored a variety of potential CBDC architectures noting how they could improve upon pre-existing ancient dinosaur payment practices.
BIS wants the citizens of the 60 countries it represents with its 600 members council from international financial institutions to keep control of digital cash. So of course, they are going to claim that investors in cryptocurrency aren't being driven by distrust in the financial system or government monetary policies. But hey, at least the Central Bank of all central banks threw us a bone and said that "cryptocurrency doesn't need regulation." You take what you can get.
Bitcoin is currently trading at [FIAT: $35,453.62] UP +2.0% in the last 24 hours according to Coingecko at the time of this report.